Amplifying Cognition
Corporate Programs
Accelerate

individual and organizational productivity
We help innovative organizations increase the effectiveness of leaders and managers in information-intensive environments.
Interactive online courses
Interactive online courses
Our online courses are far more than content. They are highly interactive, guiding users through a process of considering and implementing the personal practices that will be most effective for them.
Thriving on Overload Interactive Course
A sophisticated program designed to help managers and executives to excel in their work in a world awash with information. It guides them through the process of creating their own Personal Information Plan they can immediately put into practice.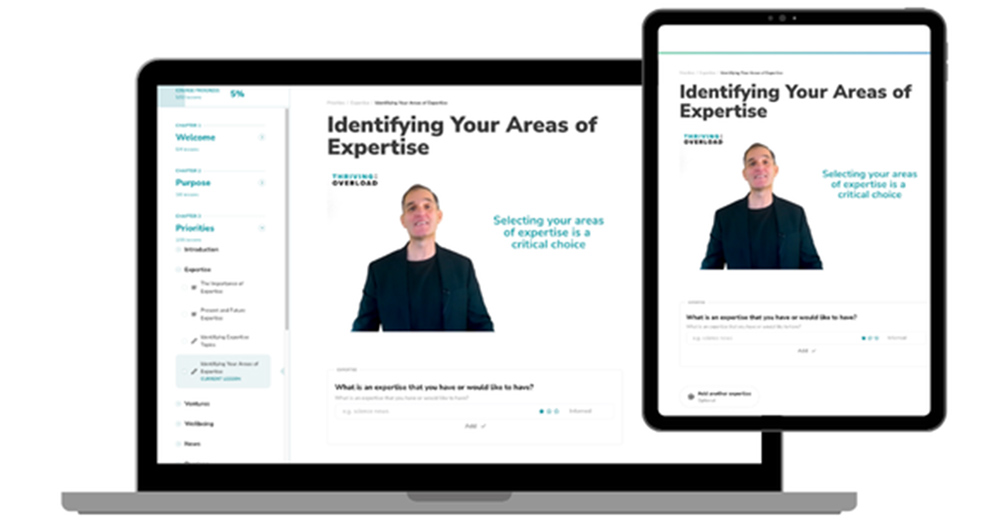 Tailored information productivity programs
We create custom programs for improving personal information productivity and capabilities, tailored to include effective use of the client's software platforms, tools, and internal processes.
Our high-impact cohort courses consist of a series of brief scheduled online workshops combined with structured offline tasks. They result in high levels of engagement, shared learning, team building, and efficient capability development.
AI-Powered
Productivity
This intensive participatory based course is designed to substantially improve work performance and productivity using AI. Participants are guided through creating a personal Humans + AI workflow that taps and amplifies their unique capabilities, resulting in enhanced work performance.
Increasing Information Productivity
The defining capability for success in any role today is the ability to create value in a working environment awash with information. This program focuses on simple steps that professionals can take to improve their information productivity, with substantial impact on work outcomes.
Thriving on
Overload
Information overload is an everyday reality in every organization, often leading to stress and sometimes burnout. This program engagingly guides participants through the steps they can take to shift their mindset, develop effective information practices, and improve mental health.
Sessions run in-person by Ross Dawson or his team are a strong fit for leadership development programs, management offsite events, or professional development days. These can be supplemented by access to online resources and programs for maximum impact.
Information Productivity for Leaders
This program focuses on the particular challenges of senior executives in dealing with information and communication overload, providing guidance on optimizing their daily effectiveness and their capabilities at information-intensive decision-making.
Amplifying
Cognition
The heart of increasing productivity is, ultimately, better thinking. This workshop can be adapted to managers and executives at all levels to build more effective information habits, enhanced expertise development, and better decision-making.