We all know that feeling. You sit down at your computer to get some work done, but before you know it, you've been browsing Facebook for the last hour. It can be tough to focus on your computer when there are so many distractions available. Fortunately, there are many productivity apps that can help us to stay on track and get more done in less time. In this blog post, we'll take a look at some of the best productivity apps available and how they can help you to stay focused and block distractions while working on your computer. Whether you're a student, a professional, or just someone who wants to be more productive, these apps can make a big difference in your work sessions.
---
Blocksite
Blocksite is a browser extension that blocks you from accessing distracting websites and replaces the page with a rather funny picture. It has an array of features designed to help you stay focused while you're browsing the internet. Blocksite has a free version but its true distraction-busting capabilities are unlocked in the premium version.
Some of its standout features include:
Uninstall prevention and password protection
Syncing across devices
Block sites that contain specific keywords
Site redirect
Set time limits on distracting websites
Rescuetime
Rescuetime is a time-tested productivity app and time management software that has been in business for over 14 years — aeons in the world of software as a service. It automatically tracks
the time you spend on different activities on your computer, such as which websites and applications you use, and provides reports and analytics to help you understand how you're spending your time and identify ways to be more productive.
Other features on offer include such as:
'Smart coaching,' which provides you with prompts and insights on how you can stay focused based on your activity during the day
'Focus sessions', where rescuetime blocks the most distracting sites
End-of-day summaries of how your day went.
Desktop and mobile support.
Website blocker
If you're serious about improving how you spend your precious time, Rescue time is non-negotiable.
News Feed Eradicator
Social media can be a necessary part of many people's work, but the endless newsfeeds on these platforms make it easy to get distracted and waste time. These feeds are designed to be engaging and keep users scrolling for long periods of time, which can be frustrating and counterproductive for those who need to use social media for work.
This is where the Newsfeed Eradicator chrome extension comes in. It replaces the newsfeed of various social media apps with an inspirational quote, helping you keep focused on your work temptation of a never-ending newsfeed.
Tomato Timer
Tomato Timer is a website with a simple focus timer that you can use to break up your day into focused deep work sessions and short breaks. It's based on the Pomodoro technique time management method. The idea behind it is that working in short, focused bursts can be more effective than working for long periods without a break. The work sessions are usually 25 minutes long, and the breaks are 5 minutes, with a more extended break thrown in after a few sessions. Tomato Timer lets you adjust the timer settings however you like so you can craft your own focus sessions.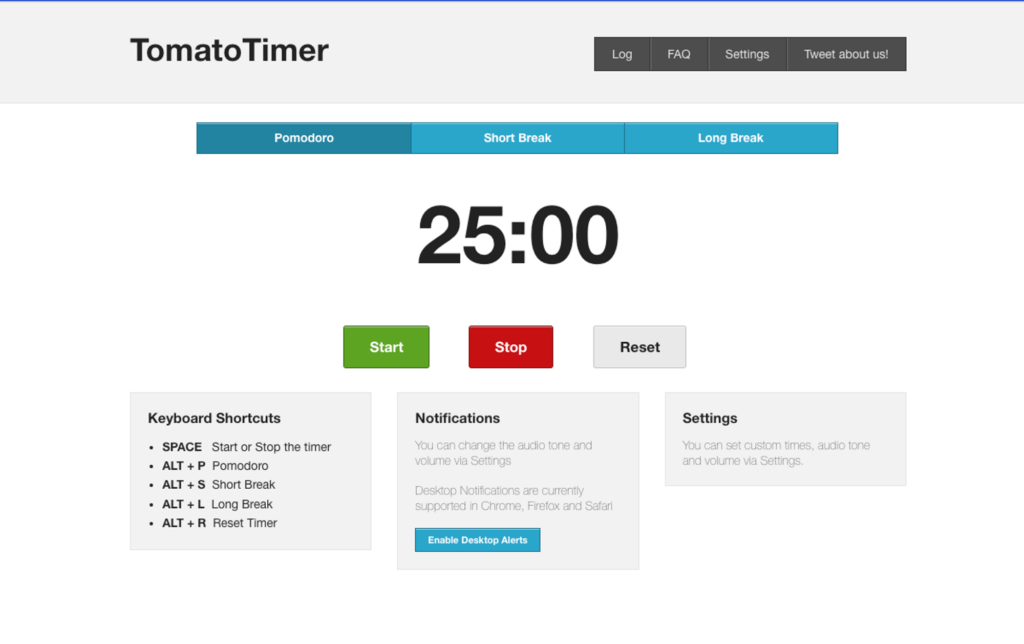 Seconds to install, hours of focus gained
If you're struggling to stay focused while working, use some of the tools above. Whether it's a timer that sets your focus sessions and breaks, or an app that blocks distracting websites, these apps will help you stay focused and productive when using your computer. Give them a try!
---
Sign up to our Tips for Thriving newsletter for weekly insights into how you can thrive on overload.
Read the book Thriving on Overload for distilled insights from information masters.
Take the Thriving on Overload Interactive Course to take your skills and capabilities to the next level.